When leaders from some of Europe's most influential nations convened in Ostend, Belgium, for the second North Sea Summit on April 24, 2023, the stakes were high, and the goals were clear. The aim: to turn the North Seas into the "Green Power Plant of Europe," a vision birthed at the first summit in Denmark in May 2022. But behind the scenes, another kind of expertise was at work, ensuring seamless communication among delegates. Premium Conference Rental Alliance member, Duvall, provided unparalleled support to make this summit a success.
The Belgian Prime Minister and the Minister of Energy invited the Heads of State and Government, and the Ministers of Energy of Denmark, Germany, the Netherlands, Luxembourg, France, Ireland, Norway, and the United Kingdom, as well as the President of the European Commission and the Commissioner for Energy, to discuss energy security, sustainability, and cooperation in the North Sea.
At the heart of these discussions was the Esbjerg Declaration, a cooperative effort to produce more affordable, secure, and sustainable energy in the North Sea. Belgium's ambition to harness the energy and industrial potential of the North Sea reflects the collective commitment of the attending nations.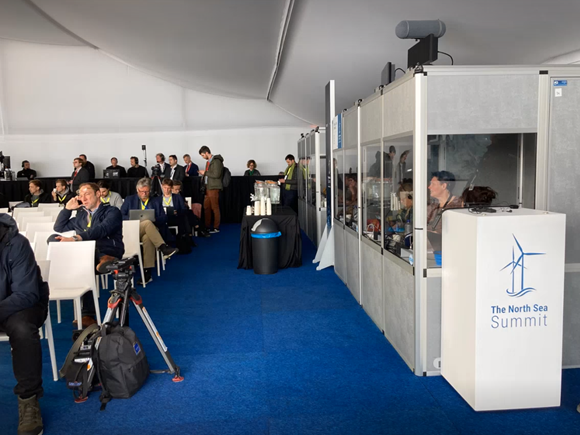 Duvall, known for its technical know-how and innovation, played a crucial role in the summit. They provided all simultaneous interpretation solutions, interpretation desks, and IR language distribution along with 5 interpreter booths, facilitating interpretation in 6 languages.
This wasn't merely a technological exercise for Duvall; it was an opportunity to contribute to a summit with global implications. The state-of-the-art Televic equipment, coupled with meticulous planning and execution, ensured that the attendees could focus on the core issues without any communication barriers.
The summit ended with renewed momentum and strengthened cooperation among the nations, with the vision of making the North Sea Europe's largest powerhouse. From tackling climate change to securing energy supply, the summit forged new paths in regional collaboration.
The flawless execution of the conferencing solutions reflects Duvall's dedication to excellence and its role as an enabler of international discourse.